Suffolk scam trial: Undercover officer 'posed as escort'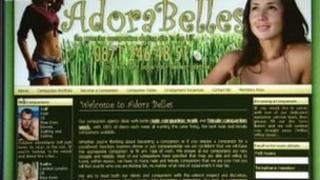 An undercover Suffolk trading standards officer posed as a would-be escort to expose a scam, a court has heard.
The jury was played a secret recording in which Paula Saward was told by a woman from escort agency Evening Encounters she could earn up to £1,800 a week taking men on dinner dates.
Five defendants on trial at Ipswich Crown Court have denied money-laundering and conspiracy to defraud.
A sixth, Toni Muldoon, who ran the fraud from Spain, has pleaded guilty.
"I asked her whether these people I am going to meet are going to be safe," Ms Saward told the court on Monday.
"She said not to worry, all of the clients will be police checked."
The jury heard claims she would earn £150 an hour and that the company was a non-profit organisation.
After being offered a date Ms Saward paid a £259 fee - but the date never materialised, the court heard.
'Sounded convincing'
An estimated 15,000 people across the UK were conned by an escort scam involving numerous fake sites, and a separate debt elimination scam run by the same fraudster Toni Muldoon, the trial has heard.
It formed the biggest investigation ever carried out by Suffolk Trading Standards, the court has heard.
Earlier, victims of the debt elimination scam said they paid fees on the promise that credit cards would be wiped.
Publican Neville Broster, from Bridgend, told the court he had paid £1,700 in fees to wipe off his credit card and car loan after a cold call.
"I was wary of her at first but she sounded convincing," he said.
"I said I would go along with it as long as it wasn't a scam. She said it definitely wasn't a scam."
The court heard he did not have his debt wiped, or receive a promised refund. He rang and wrote to the company more than 50 times.
All five defendants deny the charges.
They are: Mark Bell, 41, of Westerfield, near Ipswich; 57-year-old Christopher Taylor, a former police officer from West Yorkshire, of Oxford Road, Wakefield; Geraldine French, 60, of Gordon Road, Lowestoft; Colin Samuels, 61, of Redgrave, in Suffolk and 29-year-old Bradley Rogers, of Malaga, Spain.
The trial continues.