Eddie Maher could be forced to pay compensation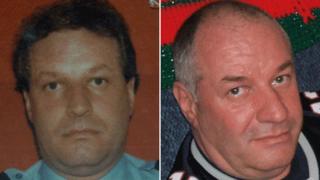 A former security guard who stole nearly £1.2m from a security van in Suffolk in 1993 could be ordered to pay compensation, a court has heard.
Eddie Maher, 57, formerly of South Woodham Ferrers, Essex, was jailed last month after admitting the theft from the Securicor van in Felixstowe.
Prosecutors are looking to seize assets belonging to Maher under the Proceeds of Crime Act.
Ipswich Crown Court heard confiscation proceedings had begun.
The BBC understands Maher has a pension worth about £125,000 from his time as a firefighter in London.
The court heard prosecutors are pursuing a further application ordering Maher to pay compensation to G4S, the company that took over Securicor.
Maher disappeared for 19 years before being arrested in the US in February 2012.
He was sentenced at Southwark Crown Court to five years for theft.