Cefas laboratory could move from Lowestoft as part of review
5 April 2013

From the section

Suffolk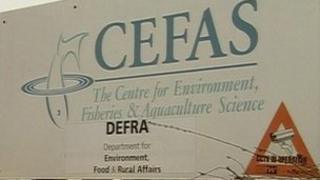 A government environment and fisheries laboratory could move from Lowestoft as part of a review into its future.
The Centre for Environment, Aquaculture and Fisheries Science (Cefas) in Pakefield could close due to concerns over the state of the building.
The Department for Environment, Food and Rural Affairs (Defra) is considering several options including moving the laboratory out of the town.
But Cefas said a decision on the site, which employs 400, could be years away.
Cefas has occupied the complex for nearly 60 years. Many of its Pakefield laboratories and offices are within a 19th Century former hotel which is said to be in a poor state of repair.
Cefas is an executive agency of Defra, and its recent research has included work on rising acid levels in the sea.
Background 'homework'
In a statement, Defra said: "We are currently reviewing the Lowestoft site as it is costly to maintain and will not support Cefas operations long into the future.
"We are looking at a number of possible solutions but further work is necessary."
A spokeswoman said options included renovating the current building, moving to another site within Lowestoft or relocating outside the town.
She added: "We are merely doing some background homework on our Lowestoft and Weymouth premises, considering that the need for improved facilities continues following our engagement with the former Waveney Campus project."
The spokeswoman said the "costs and benefits" of several options were being evaluated, but it would be years before any final option was agreed and realised.
Bob Blizzard, former Waveney MP and Labour's prospective parliamentary candidate for the seat, said moving Cefas from Lowestoft would be a "devastating blow" for the town.
"My big fear is that this is being driven by George Osborne's demands for even bigger savings from government departments," he said.
"If that manifests itself as a loss of all these jobs to Lowestoft, that would be a disaster."
Peter Aldous, Conservative MP for Waveney, said: "I do believe passionately that the best place for Cefas is in Lowestoft where they have had their home for many years.
"The North Sea is going to be the happening place in the next few years and what better place to take advantage of that than Lowestoft."
He said he would meeting Cefas next week but was optimistic the facility would stay in the town.