Philip and Ann Prior not deterred by Barbados shooting
4 April 2013

From the section

Suffolk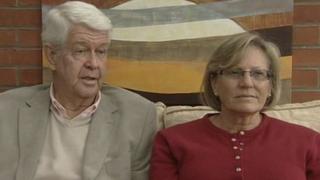 A couple who were shot in Barbados during a round-the-world cruise are back home and say they would be happy to revisit the Caribbean island.
Philip and Ann Prior, from Bedfield, Suffolk, were attacked in Bridgetown as they returned to the P&O ship from a sightseeing trip.
Mr Prior, who still has a bullet in his leg, said they were "very, very happy" to be home.
"I don't think it will put us off travelling," he said.
Mr Prior, 72, was shot in the groin and Mrs Prior, 59, in her right leg.
The couple were treated in hospital following the attack, where Mrs Prior's bag was stolen, before they rejoined the ship to continue with the cruise.
"There were a couple of places we didn't get to see," Mr Prior said. "I rather would have liked to have seen Virgin Gorda."
Mrs Prior, who said the couple had taken "every precaution" to avoid being robbed, is determined the experience will not deter them from future travels.
"I want to go back," she said. "Unfinished business, as it were."
The couple said they had written an open letter of thanks to a Barbados newspaper.
Mr Prior said: "There are a number of people who were so kind and attentive that you feel you'd love to go back and shake them by the hand in happier circumstances."
Two men from St Philip, Barbados, have been charged in connection with the robbery and remanded in custody.