Lowestoft embedded car: Driver remains in serious condition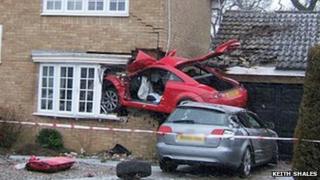 The driver of a car that crashed and ended up embedded in a house in Suffolk remains in a serious condition in hospital.
The red Audi TT left the road and crashed into the home in Long Meadow Walk, Lowestoft, in the early hours of Sunday.
The driver, who the BBC understands to be Lewis Richardson and in his 20s, suffered serious head injuries.
Three people were in the house at the time of the crash but none was injured.
Mr Richardson had to be removed from the car by crews from the Suffolk Fire Service.
He was taken to the James Paget Hospital and then transferred to Addenbrooke's Hospital in Cambridge.
The road was also closed because of fears of a gas leak from the house.
The accident happened at about 01:45 GMT and neighbours described the sound of the car going into the house as like an "explosion".
Keith Shales, 66, who lives in nearby Cotmer Road, said: "When I got there and saw the car through the hole in the hedge I thought: 'that looks serious'.
"I've seen photos of cars going into people's houses before but from the pavement, through the bushes and the cars behind it - it was like a launch pad - it must have been for him to get that high.
"I reckon he must be about four feet off the ground, I've never seen anything like it."
The car was removed from the house on Sunday, and engineers assessed the house for structural damage.
Suffolk Police said the occupants had left the house while safety inspections continued.