L/Cpl Abbie Martin honoured for Afghanistan bravery
22 March 2013

From the section

Suffolk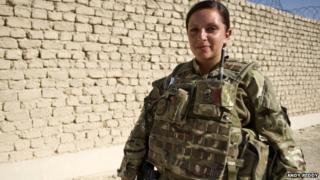 A 20-year-old Army medic has been awarded the Queen's Commendation for Valuable Service for treating a comrade while under Taliban gunfire.
L/Cpl Abbie Martin and her company were ambushed in Afghanistan last April.
The medic, from Haverhill, Suffolk, "selflessly" ran to treat a comrade while being shot at.
"I have never been so scared in my life," said L/Cpl Martin, who was a private at the time. "I kept him going until he was in better hands."
When L/Cpl Martin was deployed to Afghanistan she thought she would be working in hospitals.
But she was soon attached to the 1st Battalion the Grenadier Guards and sent out on what was her first patrol.
L/Cpl Martin heard a "man down" call on her radio after the ambush in Helmand and rushed to her comrade's aid.
"Nobody can prepare you for being shot at," she said.
"When you hear the whizz going past your head you think 'What am I doing here?'
"But you are the medic so you have to get there and save the person's life."
'Quick thinking'
Her citation praised her for "selflessly exposing herself to enemy fire" in order to give her colleague the "best possible chance of survival".
The casualty later died.
Several days later L/Cpl Martin helped save the lives of six casualties injured in a grenade blast.
Army bosses applauded her "quick thinking and foresight" in being able to treat the injured after the attack on their compound.
Her citation reads: "Throughout each action Martin was steadfast putting her patients before herself, despite the dangers, of which these are just two examples."
Reacting to the honour, she said: "It's really nice, I feel proud to have it.
"I'm a little girly girl so I didn't think I would achieve anything in the Army."