Port of Felixstowe seizes millions of illegal cigarettes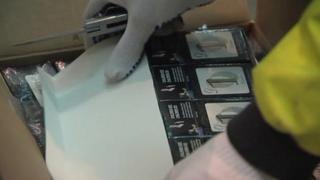 Border Force staff have seized 4.5 million cigarettes labelled banana chips at the Port of Felixstowe.
The cigarettes had come from the Philippines and equated to a loss in tax revenue of £600,000.
Border Force officer Kevin Sayer said: "They didn't look like banana chips. We opened the doors and found it floor to ceiling with boxes of cigarettes."
The cigarettes were not counterfeit but a brand customs officers had not seen before.
They were seized at the weekend and put on display for immigration minister Mark Harper on a visit to the port.
"Our Border Force officers each year protect about £300m of duty and tax that would otherwise be a risk to the exchequer," Mr Harper said, paying tribute to the work of the port.
"They're protecting us from security threats, people who are damaging the economy and also protecting legitimate businesses, stopping them being undercut by organised crime."