Suffolk man fined over Bentley Mark VI insurance fraud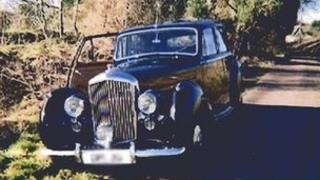 A man who told his insurer a Bentley he had restored had been stolen in an attempt to gain a five-figure payout has been fined £10,000.
Peter Webb, 56, of Richmond Road, Ipswich, Suffolk, insured the Bentley Mark VI for £42,000 after saying he had spent £38,000 restoring it from scrap.
His insurer, Groupama, became suspicious and contacted City of London Police who investigated.
Webb admitted fraud by false representation at Ipswich Crown Court.
He had reported the Bentley stolen from a block of garages.
When Groupama asked him to supply invoices and images of the restoration work, he said these were in the car boot when it was stolen.
The company became suspicious after Webb supplied a photograph of the interior of a Bentley which had been downloaded from the internet, and other photos of a similar Bentley taken after Webb test-drove it from an Essex dealership.
'Saw through fraud'
In addition to the £10,000 fine Webb was also ordered to pay £1,323 compensation to Groupama, £1,000 in court costs and a £15 victim surcharge.
He faces a six-month jail sentence if he defaults on payments.
Det Con Declan Malone, who led the City of London Police Insurance Fraud Enforcement Department investigation, said Webb had thought his plan was clever.
"However, the insurers saw through his fraud and referred the case to us and we were quickly able to establish he had committed a crime," he said.
Andrew Pagett, counter-fraud manager at Groupama Insurances, said investigators became suspicious because of inconsistencies in Webb's story and the lack of supporting documentation.
"We are grateful to IFED for pursuing this case and are extremely satisfied with the outcome which demonstrates the insurance industry's commitment to fight fraud and protect innocent policyholders."
A City of London Police spokesman said the whereabouts of the Bentley had never been discovered.