WI celebrates as Middleton pilots 20mph speed limit
7 March 2013

From the section

Suffolk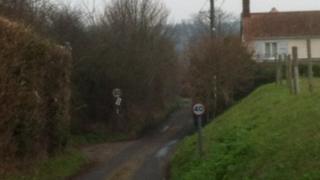 A Women's Institute group is celebrating after Suffolk County Council agreed to pilot a 20mph speed limit in Middleton, near Saxmundham.
Middleton-cum-Fordley WI has been campaigning for the speed limits to change from 30mph and 40mph since 2009.
Vice chairman Irene Ralph said the current limits were "too fast and inappropriate" due to the blind bends, single tracks and high verges.
The council said the new 20mph limit would be enforced from April.
Ms Ralph said the start of the campaigning coincided with the WI group's 90th anniversary.
'Consequences'
"We wanted to give something significant to the village as a gift," she said, adding that the roads were dangerous for walkers.
"In Middleton we have 300 plus residents and 50 plus dogs.
"A lot of people do a lot of walking to get on the fields and the speed limits of 30 and 40 are far too fast and inappropriate for our roads."
Suffolk County Council said it was using the village as a pilot, to "understand the effects and consequences of a 20mph speed limit in village locations".
The Rights of Way committee had recommended the scheme was rejected in January, after receiving an objection from the police, but Guy McGregor, portfolio holder for transport, gave it the go ahead.
"There's a national campaign being run to put 20mph absolutely everywhere," Mr McGregor said. "I certainly don't think that is sensible.
"We're going to look at it on a case to case basis and try and develop some guidelines which can help us formulate our policy for the future."
Mr McGregor said it was costing £12,000 to implement the change in Middleton.
Suffolk Police traffic management officer Steve Griss had opposed the plans to introduce the 20mph limits at Middleton and Fressingfield, which could become part of the pilot scheme shortly.
Mr Griss said there had only been one "slight collision" in the past five years in Middleton, within the 40mph limit.
In a letter of objection, he told the council: "By changing the speed limits at these locations it will make little difference and will waste money that could be put to better use, in these difficult financial times."