Suffolk Coastal District Council votes to cut councillor numbers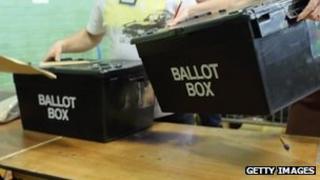 One of Suffolk's councils has voted to reduce the number of its elected representatives by a fifth, claiming it will save £100,000.
Suffolk Coastal District Council has agreed the number of councillors could be reduced from 55 to 43.
Its recommendations will be passed on to the Local Government Boundary Commission for England, which is due to hold a public consultation.
The final decision would have to be approved by Parliament.
Ray Herring, leader of the Conservative-run council, said: "We have modernised our council in recent years, streamlining our spending and decision-making structures and it seemed appropriate to also review if we now had too many councillors.
"It shows this council is ready to take tough decisions that will make us more efficient and effective, as well as saving money."
As part of its further electoral review, the commission will also look at the size of wards, such as Kesgrave East and Rendlesham, where councillors represent 40% more electors than the district average.
The council said any changes to the number of councillors should be in place by the next elections in 2015.