Thompson & Morgan leaves Guernsey to create 90 jobs in Ipswich
11 February 2013

From the section

Suffolk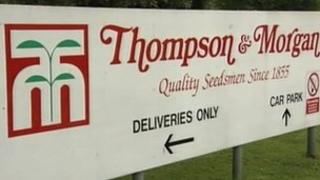 About 90 jobs have been created in Suffolk after a gardening company pulled out of the Channel Islands.
Thompson & Morgan, which is based in Ipswich, had operated its young plant business in Guernsey for about 15 years.
But managing director Paul Hansord said rising costs and new tax legislation made it "unviable".
The company employed about 110 people in Guernsey, including seasonal workers.
Low Value Consignment Relief, under which some goods were sent to the UK VAT free, ended for the Channel Islands last April.
Mr Hansord said Thompson & Morgan had left the island by December and was now "well into" the recruiting process in Suffolk.
"We had many cost advantages there and used to grow a lot of plants there," he said.
"Our costs have been going up a lot, including transport and labour, and there was some legislation changes which made it unviable for us.
"In the long term it's advantageous to be back here."
Thompson & Morgan started in 1855 and employs about 350 people.