Curious county criticism "propelled" Suffolk campaign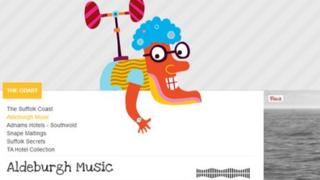 Criticism of a new tourism campaign which labels Suffolk as 'The Curious County' helped it achieve "remarkable" coverage on Facebook and Twitter.
Bury St Edmunds MP David Ruffley was quoted as saying the slogan was "idiotic and meaningless" when it was announced in October.
Amanda Bond, brand manager at Visit Suffolk, said criticism from Mr Ruffley and other MPs "propelled" discussion.
"We reached 200,000 people on Twitter, which was remarkable," she said.
Suffolk MPs Dr Dan Poulter and Peter Aldous were also quoted as questioning the logic of the 'curious' tag.
"This campaign is about doing something different," Ms Bond said. "It's not a traditional campaign and we have to stand out in the market place."
'Not derogatory'
The campaign, which was launched in London on Tuesday, will run for 14 weeks and will be mainly based online, although 16,000 postcards will be added to copies of The Guardian sold in London in March.
Ms Bond said social media allowed the campaign to target "new audiences" in London, Cambridge and the East Midlands.
"We have a very detailed social media strategy in place," she said. "We're hoping to target nearly 22 million potential visitors."
Illustrated characters have been designed to appeal to different groups, including families, couples and "empty nesters".
The campaign, which Ms Bond said had been privately funded, was devised by Ipswich-based agency Condiment.
Creative director Chris Waters said the 'curious' term was "not intended to be derogatory".
"Myself and my business partner James are Suffolk lads," he said. "We love this county.
"It was intended to do its job and to raise the profile of Suffolk."
Mr Ruffley would not comment on whether he still thought the slogan was "idiotic", as he was quoted as saying in the East Anglian Daily times in October.