Suffolk County Council workforce almost halved since 2009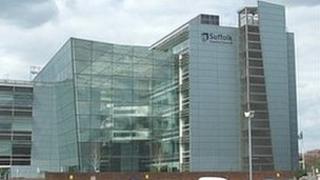 Suffolk County Council's cabinet has agreed to make savings of £24.9m from its gross budget of £1bn.
The news comes as it emerged that the authority has cut its workforce by almost half since 2009.
Its figures show the Conservative-run authority employed 9,997 people in April 2009, and this will have dropped to 5,365 by April 2013.
The council said the latest round of cuts may lead to more redundancies in the next financial year.
It said the £24.9m savings follow budget cuts of £42.5m in 2011-12 and £26.2m in 2012-13.
The job cuts have been made by reducing the number of senior managers and transferring services and staff to new or existing organisations, bosses said.
Tax freeze
Councillor Jane Storey, cabinet member for finance, said: "Last year, we made a commitment to focus savings on the back office to protect, as far as possible, the front line and this budget delivers on that commitment.
"Tough decisions have had to be made to address the speed at which [government] funding has been withdrawn from the county council."
The council said the 2013-14 savings would mainly be found by improving efficiencies across the organisation, reviewing adult care provision and looking at how council properties are used.
Sandy Martin, leader of the Labour group on the council, said: "My main concern is that the Conservatives need to boost services such as investing in improving education, rather than squirreling money away in reserves.
"Clearly the financial outlook is not bright, but even so we need to invest in our future."
The cabinet has agreed to freeze its part of the council tax for another year - meaning the average Band D property would remain at £1,126.53.