Flood protection work at Minsmere and Dingle Marshes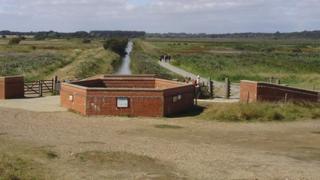 Work is beginning on improving flood defence work at two of Suffolk's protected nature reserves.
The Environment Agency is spending £1.1m at Minsmere and Dunwich rivers to protect their banks from erosion.
The Minsmere sluice, which controls the river's flow into the North Sea, is also being refurbished for the first time since 1967.
The work is expected to take five months at Minsmere and six weeks at Dingle Marshes, Dunwich.
The banks of the Minsmere River will be repaired using sheet piles along a 0.6mile (1km) stretch at the southern end of the RSPB Minsmere nature reserve.
'Significant sums'
The main sluice will be repaired along with three other nearby sluices at a cost of just under £1m.
At the RSPB's Dingle Marshes reserve, the Dunwich River will be diverted at a cost of £100,000 to try and prevent it getting blocked when beach shingle is swept into it during storms.
Gary Watson, senior project manager for the Environment Agency, said: "They are significant sums of money, but Minsmere is one of the most significant tourist attractions in Suffolk.
"It brings in about £3m a year and is responsible for about 103 jobs directly or indirectly, so if you add that up over 50 years you can see a considerable return for the public investment."