Ipswich's Tolly Cobbold brewery plan may include venue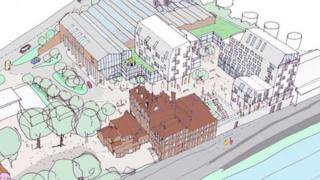 The proposed £30m development of a former brewery in Ipswich could include a new entertainment and lecture venue.
Pigeon Investment Management has submitted a planning application to convert the Tolly Cobbold site into commercial premises and 48 flats.
The developer said as well as a hotel and supermarket, the site could have a 300-400 seat auditorium.
Ipswich Borough Council is due to consider the planning application later this year.
The site, which includes the listed brewery which dates from the middle of the 18th Century, is owned by Cliff Quay Developments Ltd.
Clive Thompson, project co-ordinator for Pigeon, said: "We could use part of the building, which has this beautiful lantern light in the roof, as one big auditorium.
"It could be a lecture theatre for industry and the university as well as a theatre for plays and we'd be quite interested in a dialogue on using it as a music venue.
"We have to be aware of neighbours' quiet enjoyment of their own properties, so any of these ideas are subject to the reality of noise mitigation."
The developer said it is also in discussions with supermarket and hotel chains for the site, but they would not commit until planning permission had been granted.