Cupola House fire: Shopkeepers say business still down
10 August 2012

From the section

Suffolk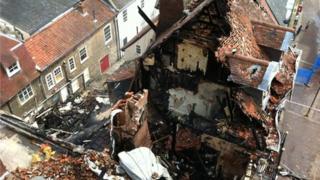 Shopkeepers say business is still down following a fire at a 17th Century building in Suffolk.
At a meeting in Bury St Edmunds on Thursday, traders said the number of customers had slumped by as much as 50% after the fire at Cupola House in June.
They said scaffolding around the Grade-I listed building and poor signs were putting people off.
St Edmundsbury Borough Council said the scaffolding was essential to support the "very fragile" building.
It said the priority was to support the businesses affected and that it had also been liaising with the Valuation Office to see if a temporary reduction in business rates was possible.
Two shops, Jessops and Sahara, remain closed almost two months after the fire at the building, which was being used as a Strada restaurant.
At the meeting, shopkeepers spoke about how their businesses have been affected by the partial closure of the Traverse.
Steve Young, owner of Paul Stephens Clothing on the Traverse, said: "The main stumbling block is the scaffolding.
"If this was the front of Buckingham Palace I'd like to bet they would find an engineering solution to the scaffolding."
Roger Courtenay-Barrow, owner of Harriet's Tea Rooms, which backs on to the Traverse, said: "We are experiencing between 30-50% reduction in footfall, and therefore sales, that's our major concern."
The five-storey building was constructed in 1693 and it took its name from the cupola on its roof, which has been destroyed.
It was removed from English Heritage's Buildings At Risk list in 2003 after a restoration project.
More details of how the fire started are expected to be announced in the next couple of weeks, but it is thought to have spread from the cellar of the building.