River Orwell oil slick swans returned after treatment
17 July 2012

From the section

Suffolk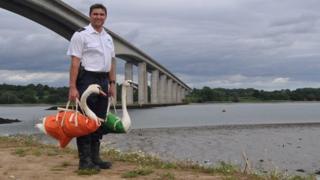 A group of 10 mute swans has been returned to a Suffolk river near the spot where they were caught up in an oil slick last week.
Eleven mute swans were rescued near the Orwell Bridge in Ipswich and treated at the RSPCA's hospital in East Winch, near Kings Lynn, Norfolk.
One of the four cygnets rescued died from the effects of swallowing the oil.
The survivors were cleaned with washing up liquid and fed a charcoal solution to absorb the toxins in their body.
They had swallowed oil as they tried to clean themselves.
RSPCA officer Jason Finch said: "The swans didn't look as if they were covered in thick black oil, but the oil is enough that when they try to clean it off themselves it can make them really sick.
"We knew that if we didn't get them in and get them cleaned then they could go downhill pretty quickly.
"Hopefully we've got all the ones that were affected here."
The Environment Agency said it was still investigating the source of the oil slick and would then decide whether to prosecute.