Suffolk County Council £13m underspend put in reserves
13 July 2012

From the section

Suffolk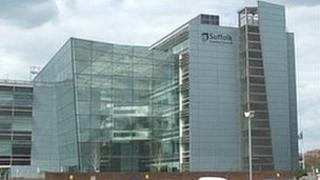 Suffolk County Council had an underspend of £13m for 2011-12, which has been put into the local authority's reserves.
The Liberal Democrat opposition at the council said it should have been used instead of making cuts to services.
The ruling Conservatives agreed to make cuts to its £1bn budget of £50m from 2012 to 2014.
They said the money would be spent on other services, including areas where there has been an overspend.
The Liberal Democrats said the money should be spent on restoring household recycling centres and youth services which have been closed and on bus routes.
Councillor David Wood, the leader of the Liberal Democrats, said: "We think the reserves they have of £158m are quite excessive now.
'Galloping along'
"We realise they need reserves, but we also need to provide public services and surely the public are entitled to more services instead of things being axed all the time.
"We seem to be galloping along and reducing spending at a faster rate than the government is telling us to."
Jane Storey, Conservative councillor with responsibility for finance, said: "The underspend was down to new ways of working that will be saving us money not just last year, but for the years coming forward.
"Although we under spent on some areas, others were over spent, so we have to recognise that there's a balancing act.
"The £13m is really savings which have been temporarily put aside in reserves and it will be spent on other services such as £5m for schools reorganisation and adult and young people's services in the future."