Lewis Mokler takes support from Ed Sheeran but vows to be different
27 June 2012

From the section

Suffolk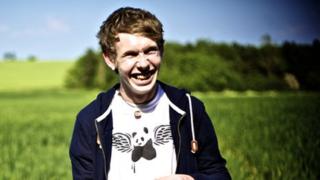 "I don't want to be the next Ed Sheeran, I want to be the Lewis Mokler."
So says Lewis Mokler, a 20-year-old singer/songwriter from Newmarket, Suffolk, who is celebrating the successful launch of his debut album.
The 11-track release, Fingertips, went to number six in the iTunes singer/songwriter chart on the day of its release.
"It's not really sunk in," said Mokler. "It's £7.99, which is a lot of money for people."
The album opens with Love Recipe, which was played by BBC Introducing in Suffolk in June last year after Mokler submitted it via the BBC Uploader .
Since then, Mokler has gigged relentlessly - playing wherever would have him and in front of whoever would listen.
"I've been gigging really hard for about 18 months now, really trying to make something happen," he said.
"Last year I played 170 gigs."
Sheeran support
Mokler says he is dedicated to keeping his fans happy and feeling part of his rise in popularity.
An example of this is shown in the sleeve for the physical copies of Fingertips, which includes a list of people who had pre-ordered the album.
"It's to say thank you very much for having the faith in us," he said.
"Without people talking about the album and buying it, no one else would hear about it."
The mention of 'us' rather than 'I' is intentional.
The other party is Joe Weaver, who spotted Mokler at an open mic night and is now his manager.
"It's just me and Joe - we've had no other backing at all," said Mokler. "All the money that was spent on the album is what I've earned from gigs."
Mokler's independent success in reaching the iTunes charts will draw further comparisons to Ed Sheeran, who entered the mainstream consciousness with his self-released Collaborations EP.
Sheeran is a hero of Mokler's and has previously passed on advice.
On Monday he tweeted to his 2.5m followers that he had just bought Fingertips and was looking forward to listening to it.
Although Mokler is keen to distance himself from comparisons to Sheeran, his next project will see him work with Amy Wadge - who co-wrote Sheeran's Songs I Wrote With Amy EP.