MP Dan Poulter resigns from BMA over doctors strike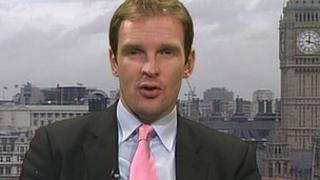 A Conservative MP has resigned from the doctors' union over planned strike action next month.
The British Medical Association (BMA) is to hold a day of action on 21 June over changes to doctors' NHS pensions.
Dr Dan Poulter, who has worked as a part-time NHS hospital doctor since becoming Central Suffolk and North Ipswich MP in 2010, has left the BMA.
"I would never have contemplated going on strike when I was a full-time doctor," he said.
"This is going to damage the reputation of the medical profession and it's going to hurt patients.
"In 2009-10, the average GP was earning £106,000 and, under the new scheme the government set up, the average doctor, on retirement, will receive a pension of £68,000 a year.
"We need to be able to afford the pensions and afford to look after people in terms of funding the NHS and it's important that doctors pay their fair share along with everyone else."
The government wants to raise the NHS doctors' retirement age from 65 to 68 in England and Wales by 2015 and to increase the contributions doctors make to their pensions.
Janet Massey, the Suffolk secretary of the BMA, said: "I'm quite sure patients will be seen in emergencies but for routine appointments the hospitals will do the non-emergency work before or afterwards.
"It isn't a decision which has been taken lightly and I'm quite sure that the doctors that have voted for this have taken it very seriously."