Sizewell C: Anti-nuclear campaigners not invited to meeting
28 May 2012

From the section

Suffolk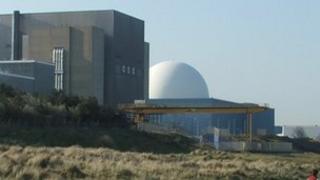 An anti-nuclear energy group says it should have been invited to a conference about the proposed Sizewell C power station station in Suffolk.
The Joint Local Authorities Group (JLAG) is bringing together local groups to look at community issues.
The Campaign Against Nuclear Expansion (Cane) said it was a community group, but had been excluded.
The JLAG said Monday's meeting was about transport and training needs, not a debate about nuclear power.
Suffolk County Council and Suffolk Coastal District Council set up the JLAG to look at local planning issues, although the decision to build another power station will rest with the government.
Mike Taylor, from Cane, which is based in Leiston near Sizewell, said: "The whole ethos of what they're saying is that this meeting was to involve community groups, and why should we be excluded from it?
'Complex issues'
"We've attended meetings with the Department of Energy and Climate Change and the Office for Nuclear Regulation and our views are met with respect.
"If and when EDF [the owner of the existing Sizewell B] decide to put in a planning application for Sizewell C, although they will have to carry out consultation before, we will not have the opportunity to discuss these many other complex issues that surround nuclear power."
Andy Smith, Conservative deputy leader of Suffolk Coastal District Council, said: "Our business from here is to make sure we bring together businesses, school and colleges, road and rail issues and collectively say 'this is what we want'.
"That wouldn't really be helped by a debate, which has gone round and round, about whether nuclear power is a good or bad thing."
The JLAG said a meeting would be arranged with local anti-nuclear campaigners shortly.