Eddie Maher: Suffolk £1m heist suspect to be deported back to UK
11 May 2012

From the section

Suffolk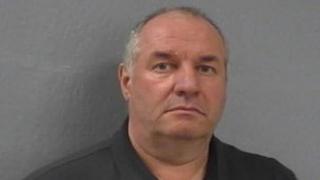 A man detained in the US is to be deported to the UK to be quizzed over a £1m security van heist in Suffolk.
The deportation motion on Eddie Maher was granted earlier at the Court of the Western District of Missouri, by an immigration judge.
Mr Maher, 56, originally from Essex, was arrested in Ozark, Missouri, after police received a tip-off in February.
He is suspected of involvement in the 1993 theft of a security van packed with cash outside a bank in Felixstowe.
The US attorney's office said Mr Maher was being transferred to custody. He will then be sent back to to the UK for questioning by Suffolk Police.
'Illegal alien'
Suffolk Police said it had been in contact with the British Consulate in Chicago, but had yet to receive a formal request for a travel document, which could take a number of weeks to be issued.
At a court hearing earlier, Mr Maher did not contest the deportation.
He was working for a cable company in Ozark when he was arrested on a separate matter and accused of immigration and firearms offences in the US.
Attending trial in Springfield, Missouri, over the US charges, Mr Maher pleaded not guilty.
In that case, he is accused of being an illegal alien, possessing four firearms and false identity documents. A date for any further hearings has not been fixed.
False plates
Police in Suffolk are waiting to question Mr Maher over the the theft of a Securicor van outside Lloyds Bank in Hamilton Road, Felixstowe. The van was later found empty on the seafront.
Police believed 50 bags containing £1m in coins, £20 notes and £10 notes, had been transferred into a Toyota Previa Space Cruiser fitted with false number plates after being stolen in London.
It is thought the Toyota was then driven to a car park on the nearby Landguard peninsula. It is believed the money was transferred again into a car later found burnt-out in Essex.