Focus 12 says finances are at record low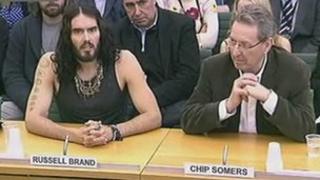 A drug and alcohol rehabilitation charity in Suffolk has said its financial situation is the worst it has been since launching in 1997.
Focus 12, which is based in Bury St Edmunds and backed by patrons Russell Brand, Davina McCall and Boy George, says it is £53,000 into its overdraft.
Chief executive Chip Somers said: "This is the worst it's ever been.
"It's very difficult to find people to support a charity like ours - it's not a popular cause."
Mr Somers said the centre costs £500,000 to run each year.
He said part of the problem was councils and other bodies who refer patients to the charity took up to four months to pay.
Twickenham concert
"It seems to have become a universal practice that people pay their bills as late as possible," he said.
"We sell our beds to statutory services and others at less than cost prices and we're in a position of finding the rest of the money from elsewhere.
"We always have one place which is totally free of charge because we believe when people are desperate you should not start asking them to run around to get money."
Mr Somers says Focus 12 will shortly receive £25,000 from Comic Relief and a quarterly payment of £10,000 from an anonymous grant fund.
A fundraising ball is taking place in London - and last year raised £20,000 - and a concert is being held at Twickenham Stadium on 15 September, in collaboration with the Amy Winehouse Foundation.
Russell Brand will be on the bill, and Mr Somers said the celebrity backing had been vital for Focus 12's survival.
"Davina, in our initial years particularly, was instrumental and put her hand in her pocket often, one year to the tune of £160,000.
"Russell is somebody who I can call in an emergency and say 'look, we really need £10,000 right now' and he'll produce it."