WWII memorial to 37 men killed near Southwold restored
19 April 2012

From the section

Suffolk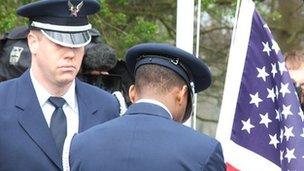 A memorial to 37 men killed near Southwold, Suffolk, during World War II has been restored.
US Air Force personnel died when two bombers collided, before bombs detonated at the scene and killing emergency service staff.
Halesworth Lions Club has restored the memorial, which was erected in 1994.
John Mendham, of the Lions Club, said: "If it hadn't been for these brave young men, we might not actually be here enjoying ourselves."
Mr Mendham said the American bombers would gather over Southwold before setting off across the North Sea.
'Dilapidated' memorial
"The two fully-armed liberated bombers collided over Henham - killing all the crew," he said.
"The crash crew and first aid rushed to the scene and as they were trying to rescue them, the bombs blew up, killing everybody."
The Lions Club host events at Henham Park, which is also used for the annual Latitude Festival.
Mr Mendham said the memorial had become "dilapidated" and in need of repair.
He said he was concerned that as time goes by, unless this kind of work is done by such memorials could be forgotten.
"The Americans say there are hundreds of these memorials around on private land which they don't even know about, let alone able to support," Mr Mendham added.