Greene King plans to close Falcon pub, Bury St Edmunds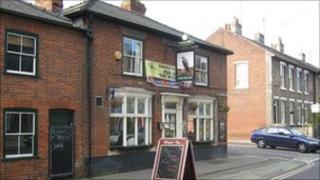 Drinkers in Bury St Edmunds are trying to save a local pub which Greene King wants to see converted to housing.
The brewery says The Falcon on Risbygate Street is "unviable".
Members of the Campaign for Real Ale (Camra) have backed a petition for the pub, which they say should be sold to another pub operator.
John Gagen, Camra pubs officer, said: "Every pub is, unfortunately, worth more if they can get permission to build two houses on that site."
The brewery, which is based in Bury St Edmunds, has submitted its plans to St Edmundsbury Borough Council.
Mr Gagen said: "Big business would be quite happy for everybody to buy their beer in a supermarket, but you can't meet people and chat to people in a supermarket - the pub is vital to a community.
"If they're are not prepared to invest in it, I would like to see them sell it to the freehouse trade or another brewer, but Greene King are quite sensitive about allowing other brewers into the town."
Camra said a petition to save the pub has got over 300 signatures in a week.
Andy Spencer, operations director, Greene King Pub Partners, said: "The Falcon has been unviable for some time and we have therefore decided to apply to convert the site into housing.
"The application is going through the standard planning stages at the moment, which allows the local community to express their views and any individual objections."