Southwold bus and coach ban 'damaging' business, say traders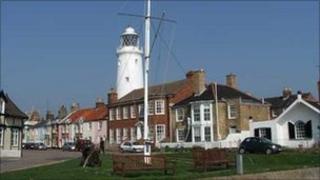 A ban on buses and coaches on part of High Street in Southwold is damaging business, say traders.
The vehicles cannot drop passengers off at Market Place as part of an 18-month trial, which began in July and it is hoped to ease congestion.
Greengrocer Sharon Doyle said: "We've lost a lot of customers. Wednesdays used to be full of coach people but now we don't get them."
Mayor John Windell said he believed more people were in favour of the trial ban than against it.
Ms Doyle said it was the older visitors who were being affected, as they now had to walk from the bus stop outside the King's Head pub - which is about 300 metres away from Market Place.
"They used to get off the bus, they knew they might have 20 minutes to half an hour to get around the shops they wanted to, but now they haven't got time to get off the bus, get up here and go back again," she said.
Trial cost £10k
Confectioner Alex Loader said fewer people were visiting her shop now that buses and coaches no longer stopped outside it.
"Almost as soon as they started putting them down at the King's Head, that's when it affected us," she said.
"People on coach trips get taken to the pier, they're predominantly older people and they struggle to walk up here."
Mayor Windell said something had to be done about the traffic congestion and that residents and businesses had been consulted.
"It's not everyone complaining about it," he said. "There's probably double who think it's a good idea.
"Two or three years ago the amount of traffic coming into Southwold made it unsustainable - it was gridlock.
"Throughout the holiday season, which lasts about nine months of the year, it was terrible.
"A lot of our visitors were saying it wasn't a very nice place to be."
The mayor added that before the trial, buses were falling 5-10 minutes behind their schedule due to the congestion.
Southwold Town Council has spent £10,000 on the project.
Guy Mitchell, chairman of Southwold Chamber of Trade and Commerce, said: "It's a lot of money to be spent on a trial scheme that doesn't really seemed to have moved us forward at all.
"I'm not sure if it's had a big impact on trade, but I'm also not sure that it's solved the congestion problems on the high street that exist for a small amount of the year."
A spokesperson for Suffolk County Council said: "The 18 month trial period was chosen so to give a true indication of the impact throughout each season.
"As the trial began in the summer 2011, it was decided to run the trial past summer 2012 so a true representation would be seen.
"With this trial we hope to see far fewer road accidents taking place as a result of the number of buses and coaches going through the high street.
"Previously there have also been a number of properties damaged by buses and coaches in the high street, including the town hall and a water fountain.
"We also hope to see a freeing up of police resources as previously many officers were required for traffic management in the high street during busy periods."