Rare fen raft spiders released on to Pevensey Marshes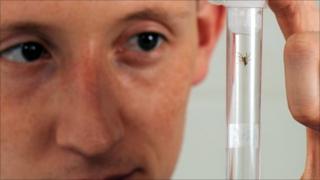 Two hundred rare baby spiders are being released on to protected marshland in Sussex in a bid to boost their numbers in the wild.
The fen raft spiders, which use their hairy legs to float on water, have been hand-reared by experts at Chessington Zoo in Surrey.
Chessington keepers have been taking part in a national programme to help stem the decline of the arachnids.
Fen raft spiders are among the UK's most endangered species.
Fruit fly diet
They are also one of two British spiders to be fully protected by law, keepers at Chessington said.
Zoo keeper Rob Ward said the mothers were collected from the wild in June when they carry their eggs in huge silk sacs held in their mouths.
Keepers kept the mothers in water bottles and waited until the babies emerged into a nursery web, which is like a big silk tent spun by the mother and which she uses to guard her offspring.
In the wild, the babies leave the nursery web after a week.
At Chessington, keepers left the babies in the nursery web for a week and then sucked them into a tube and dropped them into individual containers.
Mr Ward said the spiders were fed one at a time and also had to be kept apart to stop them attacking each other.
Each baby spider was hand-fed fruit flies every four days.
He said: "Having to feed 200 spiders one at a time is certainly a challenge, but it's vital to help see them through the most vulnerable period of their lives before they are released back into the wild, as they will then have a much better chance of surviving."
Fen raft spiders grow to a 10cm (4in) leg-span. By September, the babies were getting too big for their containers and it was decided they were ready to release into the wild.
Their release on to the Pevensey Marshes, a Sussex Wildlife Trust site that is not open to the public, is due to take place on Wednesday.
The national project has included the Suffolk and Sussex wildlife trusts, Natural England and the BBC Wildlife Fund.
As part of the national project, fen raft spiders have also been released on to the Suffolk Broads.