Private Peaceful filming at Christchurch Park in Ipswich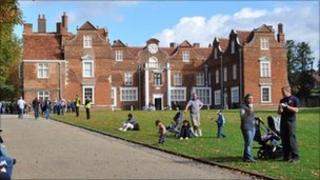 A film adaptation of Michael Morpurgo's novel Private Peaceful is being filmed in Ipswich.
The World War I era book is set in Devon but producers chose to film in Ipswich after hearing about replica trenches on the outskirts of the town.
Producer Guy de Beaujeu said: "Having come to the trenches we realised what a beautiful part of the world it was."
Christchurch Mansion and parts of the park are closed from Wednesday until Saturday.
Private Peaceful tells the story of two brothers who fall in love with the same girl.
They both go to war, where one is accused of cowardice.
Filming moves to Chantry Park on 28 September but access to the Sue Ryder home and play areas will not be affected.
The Children's Theatre Company, based in Ipswich, helped organise about 40 children to appear as extras.
Bridie Rowe, principal, said: "It's great for us as we're a relatively new company.
"It's the first time for us on a film set and a massive learning curve."