Gillian Astbury: Bed overcrowding 'partly to blame for death'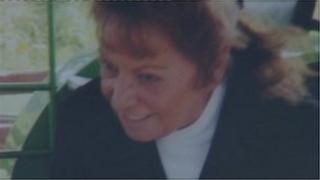 The death of a patient at Stafford Hospital after nurses failed to give her an insulin injection was partly due to overcrowding, a friend has said.
An inquest heard Gillian Astbury fell into a diabetic coma in April 2007.
Her friend Ron Street said the failure was exacerbated by overcrowding, the dangers of which were raised by a doctor at a nearby trust in 2001.
Stafford Hospital's trust said it had always acknowledged and apologised for the failings in Ms Astbury's care.
In a statement, Maggie Oldham, Chief Executive at Mid Staffordshire NHS Foundation Trust, said it had "cooperated fully both with the coroner, and with the Health and Safety Executive who investigated her care".
Ms Astbury's death was one of many at Stafford Hospital between 2005 and 2008 that prompted a public inquiry led by QC Robert Francis.
Mr Street said the 66-year-old was an extra patient placed in an annex behind a wall on Ward 7, which he said was partly to blame for a failure to administer insulin.
She was then moved across to be an additional patient on the orthopaedic ward - again behind a wall.
Whistle-blower
One nurse was struck off for the failures in Ms Astbury's care, while the Mid Staffordshire Trust was later fined after admitting failing in its care.
In April, the court heard there was no significant handover and staff did not establish that Ms Astbury was an insulin-dependent diabetic.
Summing up, Judge Hon Mr Justice Haddon-Cave said: "She was placed in a relatively isolated bay with two beds. It was not possible to observe her directly from the main ward.
"The ward manager stated that this caused difficulties in operating the ward, exacerbated by staff shortages and no extra nursing cover."
The dangers of overcrowding were condemned by then health regulator the Commission for Health Improvement six years earlier in 2001.
It followed Dr Raj Mattu whistle-blowing on the dangers of a similar practice in Coventry.
He was suspended shortly after revealing two people had died while extra patients on four-bed bays at the University Hospitals Coventry and Warwickshire.
An employment tribunal accepted this year that he was a whistle-blower and had been unfairly dismissed by the hospital.
Dr Mattu believed that if the strategic health authority, which no longer exists, had taken the problems in Coventry seriously in 2001, Ms Astbury's treatment could have been avoided.
The Department of Health has said that staff who speak out must be protected and listened to.
A spokesman said: "Just this week the Secretary of State announced a review by Robert Francis QC into the reporting culture in the NHS and how we can make it more open and transparent."