Work begins on £1.6m Stafford cycle bridge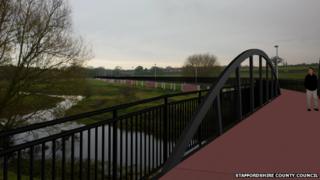 Work on a £1.6m cycle bridge over the River Sow in Stafford has begun.
Part of the new route will be built up on stilts to enable cyclists to travel over marshland between Baswich and Tixall Road.
The bridge, which is being funded by the Department for Transport, is part of a £4m county council project.
It also plans to widen a canal bridge on Baswich Lane to allow bike access, resurface cycle paths, install new lighting and build new bike sheds.
Mark Winnington from Staffordshire County Council said: "The new cycle bridge and walkway will provide an impressive traffic-free link between Baswich and the Tixall Road.
"It will really improve connections in the town and by doing so, we are confident far more people will take up cycling or walking as a travel option."
The council said work on the new route would be completed by Christmas.