River Trent pollution charges dropped against waste firm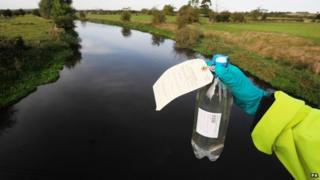 A waste company accused of polluting parts of the River Trent has had charges brought against it dropped.
In October 2009, thousands of fish died in a 30-mile (48km) stretch of water between Stoke-on-Trent and Yoxall after a leak of cyanide and raw sewage.
An investigation by the Environment Agency (EA) led to a prosecution being brought against Red Industries Ltd, based in Burslem, Stoke-on-Trent.
All charges have now been dropped against the firm.
The company's court costs, which Red Industries claim were in excess of £1.5m, will be reimbursed.
Fish stocks
Adam Share, chief executive of Red Industries, said it marked a "turning point".
He added: "I am now more committed than ever to taking the company forward and truly moving on from the aspersions that have been cast on our operations."
Cyanide had entered the Strongford Sewage Treatment Works in Stoke-on-Trent.
About 18,000 roach, barbel and dace were relocated into two parts of the River Trent affected by the incident 14 months afterwards, at Stone and Rugeley.
Red Industries was banned from discharging industrial effluent into sewers immediately after the leak.
The firm said at the time that it voluntarily stopped before the suspension notice was served.
An Environment Agency spokeswoman said: "The case against Red Industries was properly brought, following a thorough investigation.
"In light of circumstances that emerged during the trial and taking into account the public interest, we took the decision that it would no longer be appropriate to proceed."
The Agency said it was not looking for anyone else in connection with the incident.