Stafford Borough council leader Mike Heenan survives resignation vote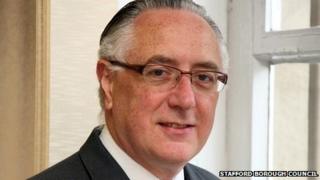 The leader of Stafford Borough council has survived a vote on a motion calling for him to resign from the council.
A group of councillors tabled the motion for him to stand down after he failed to declare his involvement with three firms on Beacon business park.
Thirty-two councillors voted against it while there were two in favour. There were 25 abstentions or absences.
Staffordshire Police said it was reviewing a complaint about Mr Heenan's interest in the companies.
The county's Police and Crime Commissioner, Matthew Ellis, said: "Police are reviewing the information available and will make a decision as to whether they will investigate formally or not in the next month or so."
Mr Heenan made a full apology to the council in February after claiming he misunderstood the council's regulations.
The authority's rules mean councillors must publicly declare all companies they work for or own a part of and any employment or vocation carried on for profit or gain.