Campaigners protest at youth cuts in Stafford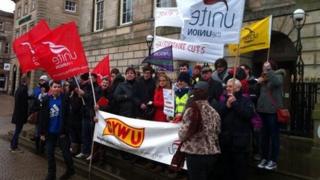 About 40 people have gathered in Stafford to protest against the potential closure of youth clubs.
The county council has agreed to cut £19m from its budget. Thirty eight youth clubs could be closed down or run by other organisations.
The authority says many youngsters do not use them but youth councillor Jack Taylor said officials were being short sighted.
A review of the 38 youth clubs is under way.
BBC Radio Stoke's Phil McCann tweeted that campaigners in Market Square, Stafford, braved the wet and windy conditions to get signatures for their petition.