Plans to turn Burslem town hall into sixth form college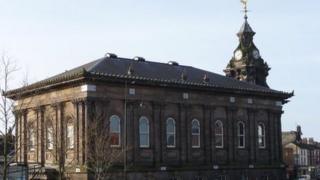 Plans have been revealed to turn a former town hall in Staffordshire into a sixth form college.
Haywood Academy wants to take over Burslem Town Hall in Stoke-on-Trent and use it as a centre to teach A-level and vocational courses.
It said it was in talks with the city council about getting a long-term lease for the hall, which was built in 1857.
The Victorian building, which was once home to the Ceramica pottery museum, is also Grade II* listed.
Burslem town hall has stood empty since March 2011 when Ceramica shut after its council funding was withdrawn.
Fund new headquarters
Haywood Academy head teacher Carl Ward said the plans were dependent on getting permission from the government to extend the age range it teaches to above 16.
He said: "We've also submitted a bid to the Education Funding Agency for £2m to refit the old town hall, demolish the Ceramica extension and build a two story facility there.
"We should find out about that in early May and if it's granted we plan to open in 2015."
Mr Ward said the plan was to have about 300 students in its sixth form.
Last year the town hall was earmarked, along with a number of other buildings, to be sold to help fund the authority's new £45m headquarters in Hanley.
Council leader Mohammed Pervez said leasing the building would still generate some income for the authority.
He said the council was also looking for tenants to lease Longton town hall.