Nazi stag do Tory MP Aidan Burley 'should go now'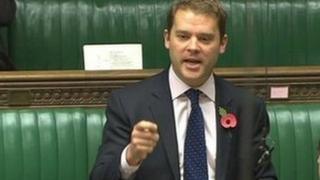 Aidan Burley, the Cannock Chase MP at the centre of a row over a Nazi-themed stag party, is "a lame duck MP" who should go now, according to the leader of the local council.
The Conservative announced on Wednesday that he is standing down as an MP in 2015.
Mr Burley's intentions were revealed soon after the publication of an internal party report into his actions at the French ski resort stag party, for which he bought a Nazi uniform for the groom to wear.
His behaviour led to his sacking as a ministerial aide in 2011.
Following the announcement he intends to leave Parliament at the next election, George Adamson, Labour leader of Cannock Chase Council, said he thought Mr Burley could not serve Cannock properly.
'High jinx'
However, a former Tory MP in the area, Sir Gerald Howarth said Mr Burley's local contribution was substantial.
Sir Gerald, MP for what is now the Cannock Chase constituency between 1983 and 1992, said Mr Burley was a "very able" young MP.
He said he had spoken to the him and he was "very, very upset", adding: "It's just completely knocked the stuffing out of him."
An internal report by the Conservative Party criticised Mr Burley's actions during the stag party, which he helped to organise as best man.
It found that the MP was not a racist or anti-Semite, but his actions had been "stupid".
Sir Gerald told BBC News that Mr Burley had achieved the biggest swing in the country in the 2010 election because he was "very vigorous and energetic" and an "enthusiastic young candidate".
"We all from time to time get involved in high jinx," Sir Gerald said. "Most people who have achieved anything in life have probably got one or two things that they would prefer that they hadn't done.
"As the chairman of the Conservative Party (Grant Shapps) has himself acknowledged [he] has made a substantial contribution to Cannock and I know because I continue to take an interest in Cannock."
'Very silly'
But Mr Adamson said he felt now was time for Mr Burley to quit.
"Sadly, he's not going until 2015. I think he should go now. I think he's become a lame duck MP and he's not going to be able to represent Cannock properly.
"He did something stupid which he admits but.... according to the Mail on Sunday [which published photos of Mr Burley on the stag party] he's consistently lied about it and that's the issue.
"If he'd apologised and been honest at the time, then perhaps it could have all been forgotten."
Val Harrison, chair of Birmingham Progressive Synagogue, a Jewish voice in the West Midlands, said Mr Burley had been "very stupid and very offensive".
"If he was being young and foolish and he is genuinely sorry, and he has apologised... then it does seem perhaps rather harsh that he loses his job.
"It's a question really of whether he's acceptable to his constituents and there will be Jewish people in his constituency.... whether it's a matter for losing his job, it's a very finely balanced question."
Constituent, Roy Edge, 66, from Hednesford, said Mr Burley had represented his community very well.
"He's just made an error of judgement. How many MPs make one error of judgement and resign? Not many."
But Maxine Cliff, 33, also from Hednesford, said: "He has been very silly in his position.
"He should've thought about the consequences.
"The only time we hear of him is when he has done something wrong."