Stoke-on-Trent Moroccan market delayed by 'visa problems'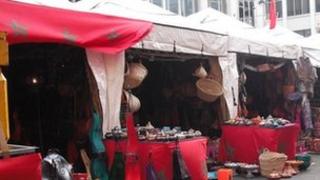 The opening of a Moroccan market in Stoke-on-Trent has been delayed because of problems with traders' visas, the city council has said.
The market which sells ceramics, rugs and clothes was due to open in Hanley on Wednesday and run until 30 December.
The council said there had been a "delay with visas being processed" which was out of its hands.
The Moroccan consulate is in talks with the British Embassy to speed up the process, the authority said.
Councillor Adrian Knapper said: "We are in regular contact with the market operators, who are still committed to coming to the city centre.
"We are hopeful the matter will be resolved and the market will be up and running as soon as possible, but we apologise for any disappointment caused in the meantime."
The city council said the market, which has about 40 traders, had previously been run in Liverpool and Leeds and this was the first time there had been problems.
It said it was the traders' responsibility to organise their own visas.