Ex-Stafford Hospital chief nurse caution 'unduly lenient'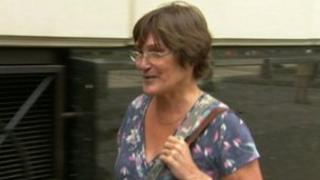 A decision to caution a former chief nurse at Stafford Hospital for misconduct is to be challenged in the High Court by a health regulator.
The Professional Standards Authority (PSA) said punishments given to Janice Harry by the Nursing and Midwifery Council (NMC) were "unduly lenient".
A disciplinary panel found Ms Harry put patients in danger by not ensuring there was adequate staffing on wards.
It said she was still fit to practice but gave her a five-year caution order.
The PSA said it had lodged an appeal with the High Court for it to make its own judgement on the case or to return it to another NMC panel to be reconsidered.
Rosalyn Hayles, director of scrutiny and quality, said: "The public have a right to expect that senior managers will be held to account for their actions when these place patients at risk of harm, just as much as staff on the front line.
"We think the NMC panel's decision to caution Ms Harry is too lenient and not in the public's interest."
Ms Harry was employed by Mid Staffordshire NHS Foundation Trust and its predecessor, Mid Staffordshire General Hospitals NHS Trust, from 1998 to 2006.
The NMC found Ms Harry failed to ensure adequate nursing staff levels on accident and emergency and two other wards.
Ms Harry has been unavailable for comment.