Rugeley miners memorial plan on hold over roundabout safety concerns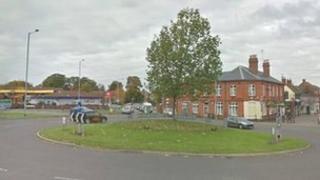 Plans to build a memorial to miners in a Staffordshire town are on hold amid safety concerns that the proposed site is a roundabout.
Cannock Chase District Council approved plans in August to put the tribute to miners who worked at the Lea Hall and Brereton pits on the Globe island.
But the county council now wants to investigate claims the monument could block the views of drivers.
It said it wanted to "fully investigate the safety issues".
The sculpture is set to feature four pitmen, each one facing one of the four roads that branch off the roundabout.
A spokesman for the council said: "We're not saying the memorial won't be built there but we want to do a full consultation with local councils and residents who've made us aware of their concerns.
"We're also investigating alternative locations around the town where the memorial could go."
It said people were also worried that anyone wanting to get a closer look at the statue would have to walk into the middle of a busy road.
Cannock Chase Council announced last year it had set aside £68,000 to fund the project as part of plans to revitalise Rugeley town centre.