Ladybridge Weir fish pass opens Tame spawning grounds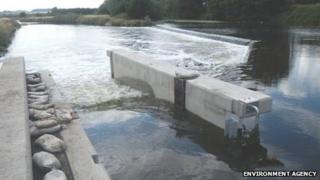 A project to open up over 23 miles (37km) of a Staffordshire river to migrating fish has been completed.
The fish pass has been installed at Ladybridge Weir on the River Tame in Tamworth.
A concrete channel with baffles slows the water down for fish. There is also a special section for eels to use.
The Environment Agency said fish and eels can now move freely upstream to reach their spawning grounds,
Christopher Grzesiok, from the agency, said: "During the works many fish have been seen by the construction crew trying to jump the weir, which shows the importance of installing a fish pass at Ladybridge Weir."
The agency said the 18-month project has been completed in the face of "snow, floods and a heat wave".