Queens Royal Lancers march through Stoke-on-Trent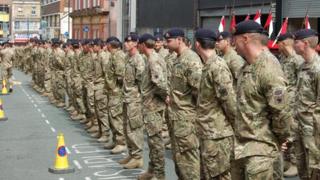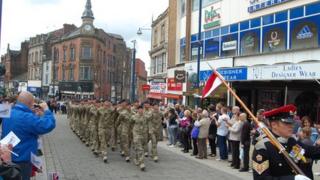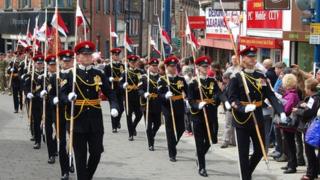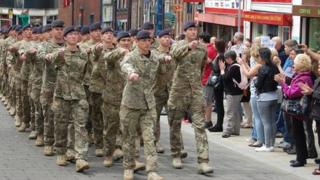 Two hundred soldiers from the Queen's Royal Lancers have marched through Stoke-on-Trent to mark their return from a six-month tour of Afghanistan.
Hundreds of people lined the parade route from Cheapside to Albion Square.
The troops had served as part of Task Force Helmand where they carried out reconnaissance duties and also trained members of the Afghan army and police.
The regiment said more than 100 soldiers from Staffordshire were involved on the last tour.
Commanding officer, Lt Col Jules Buczacki, said: "As the local cavalry regiment, it means a huge amount to us all, but especially the many local soldiers serving in the regiment, and their families."
Cpl Adam Holdcroft and L/Cpl Kyle Holdcroft, from Ball Green were marching, along with their younger brother, Trooper Bradley Holdcroft.
Cpl Holdcroft, who has served in Afghanistan twice and Iraq once, said: "In the Lancers, you're never far away from Stoke because there's a lot of the guys from our city, so we can talk about home.
"I'm proud to be marching in my home city and for my mum to see us all. I know she's proud too."
The Queen's Royal Lancers and the 9th/12th Royal Lancers are to be merged under government plans to cut 20,000 regular soldiers by 2020.