Stone Priory medieval seal returns to town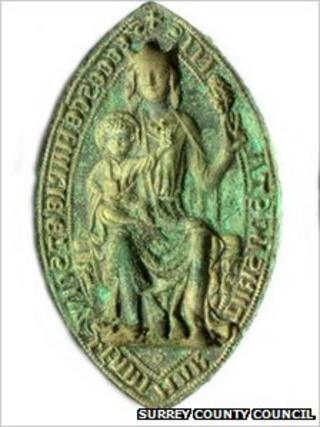 A medieval seal has been returned to its home in Staffordshire after local people raised £8,000 to buy it.
The 12th Century seal matrix of Stone Priory, which bears the image of the Virgin and Child, is made from copper.
It was found by metal detector enthusiast, Tony Burke, in a field in Cobham, Surrey, in September 2011.
After undergoing work to repair damage from corrosion, the seal has gone on permanent display at St Michael and St Wulfad's church in Stone.
The Stone Historical and Civic Society raised the money to buy it.
Philip Leason, chairman of the society, said: "It is a very important feature of Stone's heritage, the town was founded as a result of the priory.
"It's good that an object that links to the priory, that's 800 years old, is back in the town."
The seal, which would have been used to authenticate documents from the priory, is about 3in (7cm) long, 2in (5cm) wide and weighs about 3oz (84 grams).
The inscription around it reads: "S'ecc Sce Marie et Sci W(v)lfadi Martiris de Stanis" which can be translated as "seal of the church of Saint Mary and Saint Wulfad, Martyr of Stone".
Mr Leason said it was not known how the item ended up in Surrey.