Shrewsbury £7m car park plans recommended for approval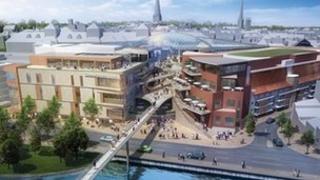 Plans to build a £7m multi-storey car park in Shrewsbury town centre have been recommended for approval, after they were changed by developers.
It will have 459 parking spaces on nine levels and will replace an existing 70-space car park between the Pride Hill and Darwin Shopping Centres.
English Heritage had objected to the initial plan because it blocked the view of a 15th Century medieval hall.
Developers Morris Property said it had altered its design after concerns.
It said it had revised proposals to remove the top floor and put in a viewing platform so people could see the medieval hall.
The car park will be linked to the Pride Hill centre via a pedestrian walkway.
Planners at Shropshire Council have recommended the plans be approved at a meeting on Thursday.
A report to the council said: "It is considered that the benefits to the town as a whole outweigh any policy objection or potential harm to the character of the conservation area."
The report said the new car park will be a key part of the £150m New Riverside development plans.
"The proposed development would ensure a continuation of available parking within the town centre, and should prevent leakage of shoppers and visitors to other competing centres," it said.