Stoke-on-Trent Chelsea Flower Show entry for sale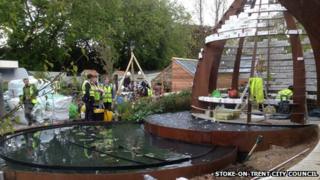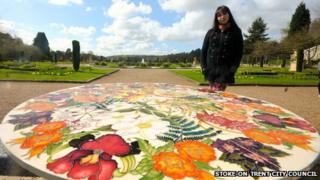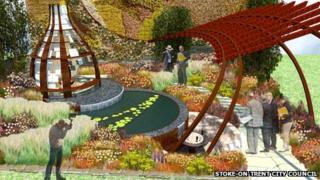 People will get the chance to buy parts of a garden being created for the Chelsea Flower Show to show off Stoke-on-Trent's ceramic heritage.
Some of the city's best-known features will be part of the garden at the show, which starts on Tuesday.
Items that could go on sale include a steel bottle kiln-shaped garden room and a ceramic Moorcroft Pottery table.
Money from the sale will go towards the cost of the garden and any profits will go into a city ceramics fund.
The garden is being overseen by Stoke-on-Trent City Council and sponsored by local companies.
Individual lots
Council leader Mohammed Pervez said the Stoke-on-Trent Transformation Garden was designed to "generate new opportunities for the city" and show off its wares worldwide.
The authority said that in the first instance, sealed bids would be accepted for people wanting to buy the whole garden.
If that did not attract a high enough offer, it would then be split into individual lots, which will be sold in an online auction from 24 to 26 May.
Auctioneers Dreweatts and Bloomsbury said the the kiln-shaped garden room could fetch £25,000 to £35,000, while the Moorcroft table could be worth £10,000 to £15,000.
The 2,500 grasses and perennial plants are predicted to fetch at least £15,000 in total and several cushions designed by Staffordshire University students are estimated to reach £20 to £30 each.