Seventy-five apply for £1 Stoke-on-Trent homes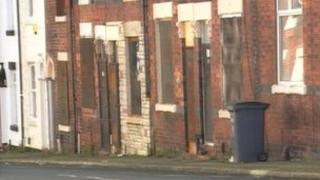 A total of 75 people have applied to buy derelict homes for £1 in Stoke-on-Trent.
Thirty-five homes are due to be sold as part of city council plans they say will revamp the Portland Street and Bond Street areas.
The application process, which opened last month, closed on Monday.
Only people who had lived in the city for three years, owned no other properties and promised to live there for at least five years could apply.
Shortlisting is expected to start this week and the council said the homes would be randomly allocated to the successful applicants.
Most of the properties are two-bedroom houses, although some are three-bedroom.
The successful owners will also be offered a £30,000 loan to allow them to make essential repairs, although the money would need to be repaid within 10 years at an interest rate of 3% above the Bank of England base rate.