National Memorial Arboretum plants Dambusters tribute
16 May 2013

From the section

England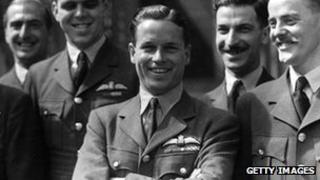 A field of 11,000 tributes to commemorate the 70th anniversary of the Dambusters is being created in Staffordshire.
Cardboard crests bearing messages written by Royal British Legion (RBL) members are being planted at the National Memorial Arboretum.
The RBL said the field would be "a significant tribute to the bravery of the men of 617 Squadron".
The messages will be displayed at the Arboretum for just one day, it said.
On 16 May 1943, 617 Squadron flew in to attack dams in the industrial region of Germany using bouncing bombs, as part of Operation Chastise.
The squadron breached two dams and damaged a third, although historians are split on the effectiveness of the raid.
It was seen as a huge morale boost in Britain and it succeeded in disrupting German industrial output.
Failure to destroy the third dam, however, meant the water supply was restored to German factories within six weeks and the dams were repaired within five months.
Timely tributes
More than 1,300 people, including veterans of the raid Johnny Johnson and Les Munro, are expected to attend a service of commemoration at Lincoln Cathedral later.
Project leader Sarah Crush said: "Each one of the 11,000 cardboard crests contains a personal message of remembrance.
"Some of them are very emotional because they're from former servicemen and women who themselves have served and lost friends while serving.
"I think it's even more important as we approach the centenary of the start of World War I, next year, to pay tribute in the way we do."
A flypast has also been held in Shropshire to mark the 70th anniversary of the Dambusters.
At 12:28 BST, the Battle of Britain memorial Lancaster bomber took three flypasts over the Royal Airforce Museum at RAF Cosford near Albrighton.