University Hospital North Staffordshire plans 400 job cuts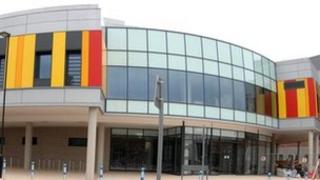 Up to 400 jobs are set to be cut at University Hospital North Staffordshire (UHNS) in the next financial year, under plans put forward by the trust.
It is one of several savings measures outlined by the hospital trust in a bid to save £22m.
UHNS said it was facing a "serious financial situation", with an estimated underlying deficit of £41m in 2013-14.
It said cuts would be achieved as far as possible by reducing the number of agency staff and deleting vacant posts.
Other savings are expected to be made through better procurement, partnerships, improved housekeeping and increased productivity, according to details due to go before the hospital board on Friday.
'Make rapid progress'
UHNS said productivity was expected to improve in the long term in part due to a move from three sites into the £370m City General hospital in March 2012.
The hospital trust has also hired consultants Ernst & Young to identify further savings. The firm is expected to report back in September.
Hospital managers said there was a "need to make rapid progress" on finding savings, while "maintaining patient safety".
Despite making a surplus in 2011-12, the hospital has seen its deficit increase over the last year and warned of possible jobs cuts last year.
The hospital may have to take on extra patients in the future for some services, including accident and emergency and maternity, if proposals to downgrade some of Stafford Hospital's acute services go ahead.