Lost ducklings rescued from castle keep in Tamworth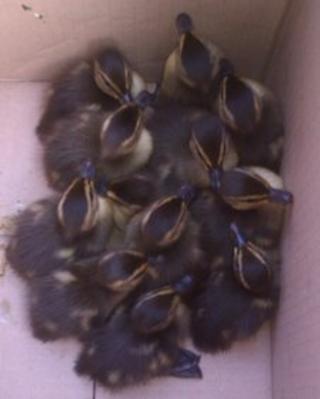 Twelve ducklings have been rescued after falling from a wall and getting separated from their mother in Staffordshire.
They fell from the wall behind the Nationwide Building Society in Market Street, Tamworth, and got trapped at the bottom of the castle keep.
Street wardens spent two hours on Tuesday morning trying to rescue them with a child's fishing net.
The ducklings were eventually reunited with their mother.
'Quack loudly enough'
Warden James Harrison climbed down into the keep and managed to capture the ducklings and put them into a cardboard box.
Mr Harrison's colleague Michael Osbourne, who was first alerted to the ducklings by market staff, said they then tried to find the mother, who had flown away.
Mr Osbourne said: "We were trying to get the mother duck to follow us down to the river, without much success.
"Eventually, we managed to get the ducklings to quack loudly enough to encourage her to fly down on to the top lawn by the wall.
"We then released the ducklings from the box and the mother then made her way to the river, closely followed by all 12 ducklings.
"It was a real team effort to rescue these ducklings and reunite them with their mother. It took us about two hours, but we were delighted to be able to help out."