Stafford Hospital: Public meeting 'a shambles'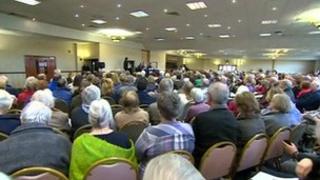 Campaigners have said a public meeting about the future of Stafford Hospital was "a shambles".
About 600 people went to hear the Trust Special Administrators (TSA) talk about their plans for the Mid Staffordshire NHS Trust on Tuesday evening.
The trust was put into administration in April following a report which concluded it was no longer "clinically or financially sustainable".
The Support Stafford Hospital group said people were "left frustrated".
Karen Howell, from the group, said: "The mismanagement of the meeting was actually a shambles and not very professional at all.
"People are worried that this meeting hasn't been well organised and that any future consultation won't be as well."
The meeting had been due to take place at Walton High School on Monday but was moved to Staffordshire County Showground, following concerns from the police about safety.
Ms Howell said she felt that had put people off.
"It was reorganised at very short notice so we did not have the representation of the whole community and I think it's a sad reflection," she said.
One of those who attended the meeting was Terina Bache from Penkridge. She said she felt the administrators were not listening to people's concerns.
"I don't think they took our questions seriously enough about the hospitals that we may have to go to instead," she said.
'Many more opportunities'
"All the other hospitals are fit to bursting already, they can't take anymore."
Sue Hawkins, from Stafford, said: "I came to see the administrators, hear what they had to say, but they only wanted to talk about the process and not the issues.
"I would like to think they've taken people's points on board because there was a lot of frustration in the room."
Earlier this month thousands of people took part in a mile-long march from Stafford town centre to the hospital, protesting at proposals to remove acute services such as A&E and maternity.
Those proposals were put forward in a Contingency Planning Team (CPT) report for the health watchdog, Monitor.
The administrators said they were only 10 days into the process and could only talk about their roles and not any of the proposals for services.
Alan Bloom, from the TSA, said people would have "many more opportunities to put their views across" about services at the trust's two hospitals, Stafford and Cannock Chase.
"We've got a mandate to look broader than just Mid Staffs alone and to look at the local health economy generally," he said.
"I'm confident that we can do that in a way that is different to the work that we did in the CPT exercise."
The Mid Staffordshire NHS Foundation Trust was the first foundation trust to be put into administration.
It followed years of inquiries into the standards of care at Stafford Hospital, after concerns over high death rates.
A second public meeting was held at the Staffordshire County Showground on Wednesday.