'Poor hygiene' led to baby death at University Hospital of North Staffordshire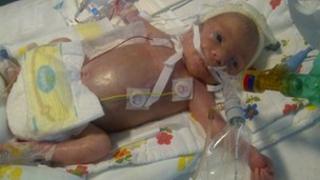 "Poor hand hygiene" by hospital staff may have been to blame for the death of a baby who contracted a fatal infection, an inquest has heard.
Jessica Strong, who was born 14 weeks premature, got the Serratia marcescens bug at the University Hospital of North Staffordshire (UHNS) in July.
She was one of two babies who died from the bug which led to a two week closure of the Neonatal Intensive Care Unit.
The North Staffordshire coroner Ian Smith recorded a narrative verdict.
Jessica was born 14 weeks early at George Eliot hospital in Nuneaton but because of her prematurity she was moved to the UHNS.
The inquest heard that after she became ill, doctors took several blood samples but only identified a possible cause for her symptoms the day before her death.
The lead infection control nurse at the hospital, Emyr Phillips, told the inquest that the infection could only have been spread by direct contact.
Six children in the unit were found to have traces of the bug but only two had become infected, he said.
Exact cause unclear
The court heard Mr Phillips believed general standards of cleanliness on the ward were high but the bug had been spread by "poor hand hygiene."
He said: "Clearly there has been a breakdown in hand hygiene practice but we will never know exactly how the spread of infection occurred."
Recording a narrative verdict, the North Staffordshire coroner, Ian Smith, said Jessica's death had been caused by "extreme prematurity and an infection spread by human contact."
The University Hospital of North Staffordshire NHS Trust said since the incident, it had started a new cleaning regime and employed three nurses to ensure standards of hygiene were maintained.
The hospital trust has admitted clinical negligence over Jessica's death.
Her parents, Craig and Annette Strong, said that they had appointed solicitors to take legal action against the trust.
'Disgraceful and upsetting'
Mrs Strong said: "I believe that the infection has been spread by a member of staff, there's no way one parent could've contracted it and passed it on to six other babies."
"It shouldn't have taken two deaths to have the new hygiene steps put in place, it's disgraceful and upsetting."
Mrs Strong said they were expecting another baby girl in June this year.
She said: "It's absolutely fantastic but Jessica will never ever in our hearts be replaced."
An inquest into the death of the second baby who also died from the infection will be held later this year.