Stoke-on-Trent memorial to Czech village Lidice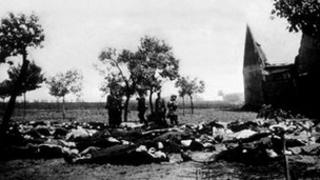 A sculpture is being built to commemorate the part miners in Stoke-on-Trent played to rebuild a village destroyed during World War II.
Lidice, in what was Czechoslovakia, was demolished by German forces in September 1942.
Miners in Stoke raised the equivalent of £1m to help rebuild the fellow coal mining community following the war.
Their efforts are being marked with a sculpture at the city's bus station, with work expected to start in August.
One of the artists, Sarah Nadin, from Dashyline studios, said the sculpture was due to be unveiled on 6 September to mark the 71st anniversary of the city's campaign to rebuild Lidice.
'Generosity of spirit'
She said the six-metre-high (19ft) sculpture, named Unearthed, would be made up of thousands of miners tags.
Dashyline also wants Stoke residents to spread the story of Lidice and the city's part in rebuilding the village.
In return for pledging to tell the story to two other people, the studios said the person's initials and day of birth would be included on one of the miners tags.
"This is about our collective history, a story which demonstrates the generosity of spirit shown by people in this area, something which can still be found in Stoke-on-Trent today," Ms Nadin said.
In 1942 Lidice was destroyed as a reprisal for the assassination of senior Nazi official Reinhard Heydrich.
Four months later, at Stoke's Victoria Hall, miners promised to donate one day's pay per week to rebuild the village.